Cypriot bottle with attached plank figure.: Early Bronze Age III (2100 - 2000 BC)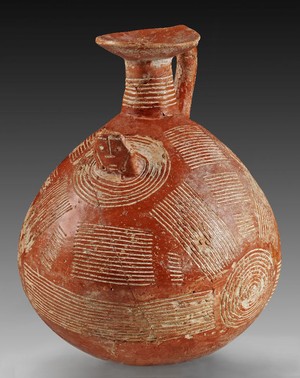 Red Polished ware jug with handle, and top half of small plank figure attached. There are only a small number of vessels existing with attached plank figures (perhaps 40 or so, of which about half are this type, and others on the top or lid of a Pyxis or incorporated into the handle of a multi bowl Kernos). I believe that plank figures represent the spirits of ancestors, and in the case of the larger, freestanding figures, were intended as containers for an ancestor's spirit. They started to be produced in the Early Cypriot III, along with the freestanding plank figures, but ended around the start of the Middle Cypriot. All with known provenance come from the North central area.
Reassembled from several pieces, and varnished by a previous owner which I will get at least partially removed. I intend to attempt to write to the last owner through the auction house to improve the provenance in relation to his grandfather.
Size: 17.6cm high x 13.4
(collection of MA, North Germany, inherited from his grandfather. With old, undated authentication letter from Galerie Gunter Puhze and photo. German export certificate 6491, 27 July 2017)
(Aquired Gorny & Mosch auction 30.06.2017 (lot 78))
DJ81