Cypriot large Black Polished Ware amphora: Middle Bronze Age II-III (1850-1650 BC)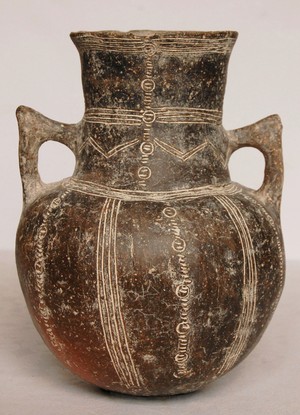 This imposing amphora with spurred handles is Incised Black Polished Ware, similar to the normal Red Polished ware but fired umber to black by reducing air to the pot in the kiln, producing a reducing atmosphere. This is an unusually large example. The elaborate incised decoration consists of bands of parallel lines and bands of circles connected by dots. White lime was put into the incisions. It is round-bottomed like almost all Early and Middle Cypriot pots. This shape may have been achieved by using a gourd as a mould. It probably required a ring of some organic material, such as plaited straw to sit in, though it may have been stored upside down or in a lime-plaster "bin". These are known to have existed in some houses, along with narrow, plaster-covered benches along the walls. The walls and sometimes the floor in those houses were also covered in lime plaster.
Intact with a few minor chips and surface wear.
Size: height 24cm
(Ex. Private collection, Germany (name of collector known to me but withheld here); acquired Nicosia 1972-1974)
(Aquired Charles Ede, 27th July 2016)
DJ72