Cypriot fish askos: (Cypro-Geometric III) 9th-8th century BC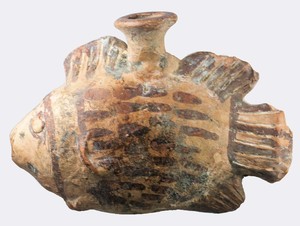 A rare pottery flask or askos vessel in the form of a fish with painted, applied and incised details.
The Early Bronze Age link of animal modeling with cult fertility and funerary use seems to have largely died out as Greek culture, religion and language became dominant in the early Iron Age, following large scale immigration triggered by the collapse of Mycenaean civilisation. Already, the range of animals represented had spread beyond the horned animals found in Cyprus of the EBA I & II and the addition of birds in EBA III and thereafter. Imported Mycenaean pots frequently depicted fish and octopuses and this askos derives from Mycenaean originals of the late Bronze Age. Fish, however, are still a relatively rare subject in the Geometric period, though often depicted on jugs in the Archaic period, especially as the prey of water birds.
Lower tail fin restored, some chipping and light wear as seen in the photographs.
.
Size: 7.6 x 10.6 cm
(Ex. collection: Johnny Noble, Laird of Ardkinglass, Argyllshire, Scotland (1936-2002). Acquired 1980's on the London art market, with Faustus Fine Art (now no longer in existence, making persuit of earlier history problematic).)
(Aquired Helios Gallery July 2016)
DJ70