Cypriot gold earring: Late Classical or early Hellenistic c. 350 BC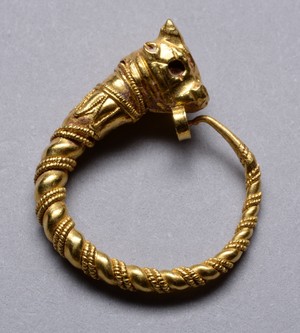 The Cypriot concern with bull imagery goes back into the Early Bronze Age I and is found in Crete and, later, Mycenae, and continues in almost every period. Gold earrings with bull-head imagery are known from the Late Bronze Age till at least the Roman period. The Bronze Age type was a full-face bull and the hoop passing through its top suggested the horns. This earring is of a type famous from the classical period (see Cesnola collection NY) and continuing through the Hellenistic.
This is an extremely fine example made from 3 strands of trwisted goldwire, two twisted filigree and one plain. The hollow bull-head terminal has chased decoration andapplied coiled and filigree wire. I am unsure if it might have had glass or stone eyes originally.
Size: 2.65g. 2.5 x 2.0cm
((Ex the collection of Michael Michaelides (1923-2015), an internationally famous Cypriot artist born in Paphos but resident later in London. His collection of Cypriot pieces was formed 1950s-1970s. This piece was purchased in at Sotheby's London, 8th January 1968, lot 158 (part). Sold Chiswick Auctions 29th Sept 2015.))
(Aquired (Acquired from ArtAncient, May 2016))
DJ69