Cypriot small amphora: Middle Bronze Age : 1700-1600 BC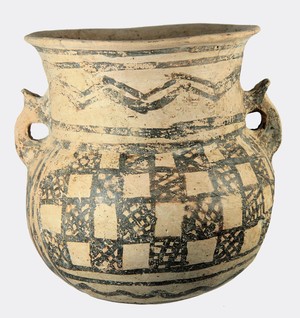 A Handmade White Painted Ware pottery amphora, decorated with a chequer board pattern on one side and lattices below a lozenge frieze on the other. Possibly from Western Cyprus.
WPW is painted with black or red lines on a cream slip and was the first of a few painted wares which supplemented Red Polished Wares in this period. Others are Red on black ware and Red on Red ware. Though small volume luxury products in Cyprus, White Painted ware and Red on Black Ware were actually the chief (and first notable) pottery exports from Cyprus of that period and between the world wars the latter became frequently used as a date marker for the Middle Bronze Age in the Eastern Mediterranean. White painted ware, however, was made chiefly North and East of the Troodos mountains, while R on B ware came from the Carpas Peninsular and eastern Mesoria. These are mostly now in Northern (Turkish) Cyprus, so not much investigated.
This shape, usually more elongated, is often found in other wares and can be very large. A fascinating study of WPW wares by Laura Gagné has demonstrated that children probably learned to make and paint pottery on the job with adult supervision. Pottery was made locally in a few households in each village.
The start of the Middle Cypriot period has been defined by the arrival of White Painted Wares. Otherwise this point of division is not very useful historically and other divisions of the Bronze Age period have been proposed. WP ware continued to be made in the Late Cypriot I period till 1400 BC.
Intact with surface wear.
Size: 11.7 x 11.7cm
(Ex. collection: Lord Dayton of Curran (Irish scholar); acquired from Charles Ede Ltd in October 1982 (catalogue no. 8) who had bought it from a (house-sale?), Chinnor 16th June 1982)
(Aquired Helios Gallery 30th November 2015)
DJ47