Cypriot very large bowl with double spout (Red Polished III Ware): Early Cypriot IIIB to Middle Cypriot I 2025-1850BC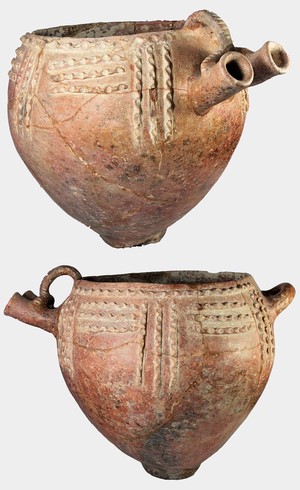 An important, very large, Early- Mid Bronze Age, deep pottery bowl. Red Polished Ware decorated below the rim with horizontal and vertical groups of wavy lines in relief. These may be abstract, but are similar to lines usually identified as depicting snakes. As the snake was a chthonic symbol (since it supposedly came from underground) this might identify the bowl as specifically funereal: perhaps for serving alcoholic drink at a funeral feast. Thee three vertical snakes (or wavy lines) in particular seem to relate to the "snakes" on the 3 vertical elements on the shrine in the Vounous bowl, reinforcing the feeling that this is a sacred symbol.
The front of the rim is mounted with two spouts linked by an arch, the rear with a single handle. A number of large bowls of this type with twin spouts exist, several of them (among the most important productions of Early- mid Cyprus) with scenic representations of people and animals in relief just below the rim. Some are taller, with a less rounded lower part, but one of the hemispherical ones, with flattened bottom, is the famous "Oxford bowl" which belonged to Desmond Morris. Like many others it had a vertical handle rather than a horizontal one like mine, and it had lost the horizontal bar between the spouts which mine retains. These bowls seem to be restricted to Central Cyprus, particularly around Vounous. The scenic type is only known from the town of Margi, plus a few from Kalavassos, 18 miles further south. Pottery coated in Iron-oxide-rich red slip and burnished.
Repaired with minor infill, rear handle restored.
Size: 41 high x 51cm
(Ex. private collection, Yorkshire, UK; acquired from Helios Gallery in 2008. Formerly ex. collection: Jorgen Jacobsen, Bornholm, Denmark. Acquired while on UN duty with the Danish peace-keeping forces on Cyprus (Dancon X/XI) between October 1968 and October 1969.)
(Aquired Helios gallery November 2015)
DJ49