Cypriot flask (early Bronze Age): 2300 -2000 BC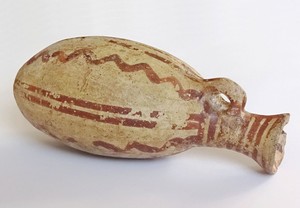 Incised Black topped Red Polished Ware (RPW). A variant of handmade Red-Polished ware, which was the dominant form of pottery in early and mid bronze age. Sometimes it was incised or partly black (usually the top and inside), or both as here. One type is entirely black (BPW). Basically red from iron oxide in the clay-slip, black was obtained by cutting the oxygen supply, either to the kiln (as in later Etruscan Bucchero ware) or to part of the pot, as here, to reduce the oxide. The liquid slip coating was burnished when dry to give gloss. Usually, as here, the incisions were filled with white lime. The rounded bottom was standard for pots after the initial Philia culture. This shape is also often seen with a handle starting from the rim and joining the top of the bulbous part. The majority of red/black ware was from the North of the island.
Pottery was probably made locally by a few households in each village, working part-time.
(Much mended.)
Size: 13cm H
(Ex collection Leto Severis Cyprus: bought Christies)
(Aquired Helios Gallery 2014)
DJ16