Cypriot tall-necked bottle: Middle Cypriot II-III (1850 -1700 BC)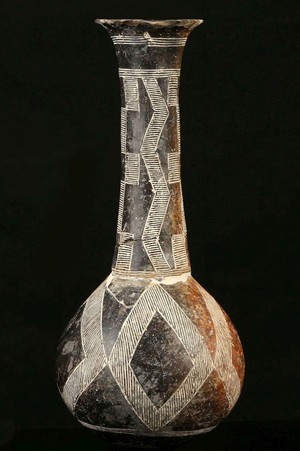 Red-and-Black Incised Burnished Ware with extremely refined incised decorations filled with lime (about 10 lines per cm). This technique of making part of the red slip turn black by contact with carbon monoxide in the kiln reducing the iron oxide in the clay, goes back to the Philia period at least.
This ware, characterised by long necked, round bottomed bottles, replaced ordinary Incised Red Polished ware in the Karpas area (North East extension of Cyprus). The complex checkerboard, diamond and vertical zig-zag motifs are characteristic. Circular motifs and horizontal zig-zags disappear. Constant variation and recombination of a few motifs is found, and it is believed that the work of individual makers can be differentiated (see Desmond Morris, p341-352 - he owned over 100 of these bottles). I cannot find a definite match but the "Fine Line Mimic Artist" comes very close. Many of these bottles are pierced both sides of the rim, for suspension, or attachment of a stopper (but not this one).
Size: 21cm H
(Ex collection of John A Badman, The Monarch, Glastonbury in the 70s)
(Aquired Chiswick Auctions 29.09.2015 lot 53.)
DJ40