?Cypriot Red on White beaker (Middle Chalcolithic): 3500 – 2700 BC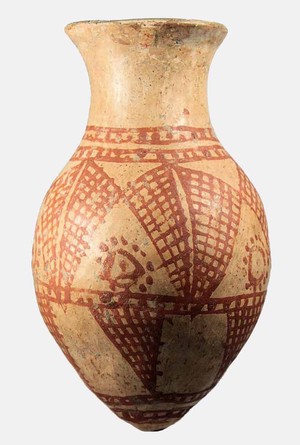 Chalcolithic Red on White ware continued from Neolithic Red on White, but died out in the late Chalcolithic (though it was perhaps continued by the very rare White Painted Philia ware).
If accepted as genuine this is a very rare near-intact Red on White beaker (restored chips on rim) from the middle Chalcolithic period. However there is current disagreement about whether this pot is Cypriot Chalcolithic. Its provenance was lost at the death of the last owner and it is not on the Art Loss register. The main shape is typical but not the out-turned rim. The decoration (but certainly not the shape) is like much from the Cypriot Mid Bronze Age, White Painted Ware, but cross-hatched triangles have been found on chalcolithic pots (though rare). The piece is thick-walled and heavy for its small size. It may not even be Cypriot but no convincing alternative has been suggested. Bought 2014 It has currently been returned to the dealer after doubt was cast on its attribution. More research is current. I have asked for first refusal.
Size: 15.9cmH
(Ex. private collection Wiltshire UK. Acquired at auction from a deceased estate in a mixed lot of Victorian pottery. All previous provenance had been lost or thrown away. [March 12016: suggested to be from N. Mesopotamia/NW Iran and after research, North Iran is now accepted.] Since discovered in a Bonhams auction catalogue 1999, lot 394)
(Aquired 2014. RETURNED TO DEALER. Now considered Chalcolithic from North Iran.)
DJ28(x)