Cypriot Mottled Red Polished Ware jug: (Early Cypriot III)  2100-2000 BC  (?)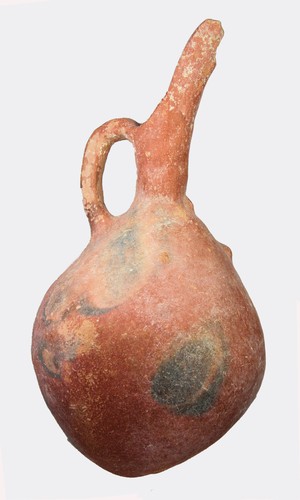 This haloed black and pale mottling effect on the red slip was named Fire Clouding by Frankel and Webb, and required an unknown but deliberate technique, possibly placing the item against burning wood or embers in the kiln. Especially found at Psematismenos, it was specific to South Cyprus in the Early Bronze Age. (Frankel & Webb, Colours and Clouds of Bronze Age Cyprus. CeramicsTechnical No.29, 2009)
In the early 80s BF Cook of the British Museum identified the jug as 21st century BC (but also, according to Dr Craig's notes, as: Philia-Vasiliko "Cypriot but Cretan type" which now sounds wrong.)
To me the shape looks more like early Middle Cypriot I-II, partly from the neck shape, but could easily be Early Cypriot III, which fits the fire clouding.
Irregular oviform biconical body, with short narrow neck and cut-away spout with circular profile handle from top of body to base of cut-away. Also 6 shallow lugs: 4 around the upper body, 2 opposite handle, one near top of cut-away, the other at the bottom of the neck..
Intact apart from minor surface chipping.
Size: 24.1 x 12.1cm
(Ex. private collection, Haslemere, Surrey, UK; acquired from the collection of J Wallace Craig MD, active in the 1940's-1970's. The collection identified and authenticated in the early 1980's by B F Cook, Keeper of Greek and Roman Antiquities at the British Museum.)
(Aquired Acquired from Helios Gallery, UK .  [Currently still with Helios])
DJ 241   (Annex 221)