Cypriot Proto Base Ring small jug: Late Cypriot I a (1650-1550)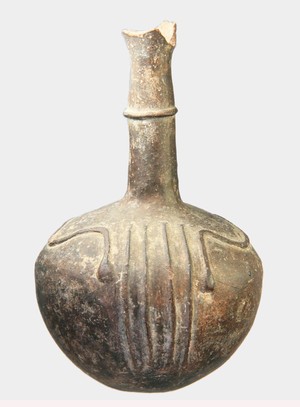 Proto Base Ring Ware follows Middle Cypriot Black Slip Ware and anticipates the small bilbil shape. As here it is similar to Base Ring I ware but without the base ring but the base dimpled inwards, rather than flattened.
A slightly flattened (carinated) spherical body with narrow tall neck with damaged funnel rim. A strap handle from shoulder to mid neck, at applied ring. Applied decoration of two horizontal wavy snakes on upper body, heads facing down on each side of four long vertical applied lines, opposite handle, possibly representing their young. The snake, probably the notorious Vipera Lebetina, represents the underworld deity of earth and fertility.
Losses around the funnel rim and a small hairline crack on body, otherwise complete.

Cf The Swedish Cyprus Expedition, Vol IV 1C, The Late Cypriot Bronze Age. Paul Astrom Fig XLIX (1). Page136 fig 37 (21) (decoration) Cyp.Mus.Inv.No.A1039 (but 3 vertical lines); Ancient Cypriot Art of the Thanos N Zintilis Collection. SM Lubson-Admiraal p127.
Size: 15.5 x 9.9cm
(Ex. estate of Brian William Hooper, Bristol, UK; acquired late 20th Century from older collections.)
(Aquired Helios Gallery UK, [Currently still with Helios. Gallery])
DJ 240  (Annex 220)