Cypriot Amphora with combs: Early Cypriot III- Middle Cypriot I (2100–1850BC)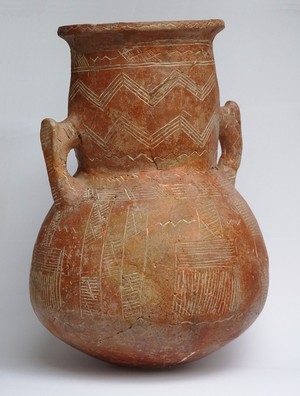 Handmade pottery storage jar ('amphora') in red polished ware. Notable for 4 detailed depictions, on each side and under the handles, of combs or brushes, similar to pottery comb figures and small picrolite pendants, and possibly depicting carding combs. A larger, more explicit version of a shape seen mainly on some plank figures, usually on their backs, possibly representing pendants (see DJ 99 & 160). The globular body with rounded base and tall cylindrical neck with everted rim; pair of opposing horned handles from lower neck to shoulder; decorated with lime-filled incisions. The 4 combs have handles bounded, hatched and crossed; middle part with horizontal parallel lines; lower part unbounded vertical parallel lines. Also zig-zags on rim, handles, neck base, between comb handles, and bottom of body. On the neck a horizontal band defined with double lines and parallel zig-zag band below. Three columns of hatched checkerboards between each comb.
Repaired from several fragments with small areas of infill and overpainting.
Published in: Morris D, The Art of Ancient Cyprus (Oxford 1985), 67, Pl. 102b; p141 Pl. 176c,d
Cf. British Museum, Museum number 1888,0927.29
Size: 22cm high
(Ex collection of Desmond Morris (1960s-70s) prior to 1985. Subsequently collection of Art Historian Prof. Dr. Albert Blankert, The Hague, purchased 09-22-2006 at Auction Cahn (Basel), Lot 304.)
(Aquired Venduehuis der Notarissen auction, The Hague NL, 16 June 2022 Lot 410)
DJ 239   (Annex 219)