Cypriot Small late plank figure: Middle Cypriot II (1850-1750 BC)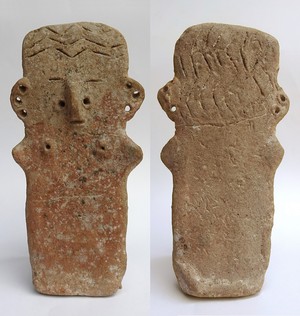 A Red Polished Ware female "slab" plank figure. Small, like many late examples. Plank figures were previously considered fertility goddesses, but now their identity and function is controversial, though many believe they are ancestor figures.Only a few of the early, classic, armless "shoulder" plank figures have breasts (around 10%) but the majority of the later ones do. Does this represent a move towards making explicit what was once assumed, or if they are ancestor figures has it become possible for more females to take on that role?
Sideways protruding arm stubs, curved forward, and projecting ears with 3 piercings, slightly turned forward at the top, reminiscent of Late Cypriot ears on both humans and bulls. Nose and small, high breasts in relief – nipples indicated by depression. Poked depressions for eyes, incised eyebrows and 3 horizontal zig-zags for hair. On reverse, 8 vertical zig-zags represent hair. Repaired from 2 pieces, some scratches and discolouration, red slip missing on back.
Cf. V Karageorghis The Coroplastic Art of Ancient Cyprus, 1. I, p 85, Bj10, plate L(5). Metropolitan Museum, Accession Number: 74.51.1537.
Size: 13.5 x 16.7 x 1cm
(Ex collection of Daniel Hartmann, Zurich (date of acquisition unknown), subsequently collection of Art Historian Prof. Dr. Albert Blankert, The Hague (& Cambridge UK) - Purchased in 2001 at TEFAF Maastricht from Galerie Cahn (Basel).)
(Aquired Venduehuis  der Notarissen auction, The Hague NL, 16 June 2022  Lot 409)
DJ 238  (Annex 218)