Cypriot Paphos silver Siglos coin: c 500 BC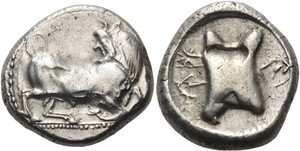 This is the earliest,coin type from Paphos, at the standard early Cypriot weight of circa 11 grammes, featuring a Man-headed bull – probably the river god Bokaros - moving to right on pelleted ground line, his bearded head turned back to left. On the reverse: Cypro syllabic script and an astragalos (a symbol that refers to the consultation of oracles through the casting of dice made from knucklebones - usually from the hind legs of a sheep or goat) - all within a circular incuse.
Evangeline Markou* wrote that these coins are identified by the script as issued by king Siromos. However the dissemination in auctions of recent years of a number of new coins of this design shows a variety of syllabograms, some consistent with this (typically saying "pa – si", the "pa" short for "king "(pa-si-le-wo-se). However some coins as in this case, seeming inconsistent, typically saying "ku -ti", plus another sign: here possibly "si". This might refer to a second king. In at least two of the latter the bull moves to the left with "ku" below, probably referring to Cyprus. "ti" might refer to the king's name , unless the possible "si" is still for Siromos. Might this unsettled form suggest it is earlier?
Very rare and fine example but the astragalos rather flatly struck.
* "The coinages of the kings of Cyprus from the Archaic to the Early Hellenistic period", in the website: Kyprios Character. History, Archaeology & Numismatics of Ancient Cyprus: kyprioscharacter.eie.gr/en/t/AU
Size: 21.5 mm1h, 11.18 g
(Ex the Paulaner Collection, Bavaria, c. 1960-1990s.)
(Aquired Nomos auction 24, lot 239)
DJ 237 (Annex 217)