Cypriot Pottery knife model 17cm long: (Early Cypriot IB- II) 2300 – 2100 BC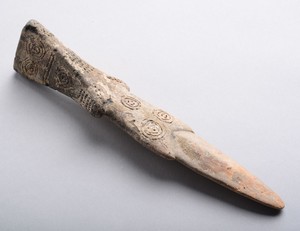 This is the earliest Cypriot pottery skeuomorph type (life size model) imitating a bronze knife with wooden handle. (see also my horn model - DJ 109.) It appeared at least 100 years before thorn models and comb figures and died out at about the same time as Plank Figures appeared. As usual this is Red Polished Ware, specifically in this case re-black polished ware. Some red is visible on the blade and black around the handle, under encrustation which may be hiding a more normal appearance
Decorated with triangular groups of incised concentric circles: two and then one on each side of the wedge shaped handle, separated by parallel lines, and another 3 on each side between the forward angled cross-piece and the blade proper, which narrows to a blunt point, while thickening towards its midline. Groups of dots decorate the narrow sides of the handle and around the cross-piece. All incised lines would once have been (and may still be) filled with white lime.
It is very similar to the knife model from Vounous tomb 114 and may be from the same maker. More than 11 knife models and 13 sheath models are known to archaeologists, but as with all Cypriot antiquities, others will be in private collections, having originally probably been looted. All those with a provenance (known find site) are from Vounous by the central North coast which, with Lapithos later, was the origin of all skeumorphs and object models and most other pottery innovation in the Early Bronze Age. These "knives" are normally accompanied by a pottery model of a leather sheath, often with incised imitation of stitching.
Such objects were made for tombs as a funeral gift and have no observable use-wear. It may have been a substitute for a more valuable, real bronze knife, but models of less valuable objects were later also put in tombs and a model may have had a particular magical function in relation to the dead. The original knife was probably a practical, everyday blade rather than primarily a weapon, perhaps used in hunting and butchery.
Cf Stewart E & Stewart J: Vounous 1937-38 Field Report on Excavations sponsored by the BSAA. 1950 Lund. Plate XCVIIa. Desmond Morris The Art of Ancient Cyprus 1985 Fig 477 p257.
DK Knox Making Sense of Figurines in Bronze Age Cyprus 2012, p 135, 319-320.
Size: 17cm long
(Provenance: Formerly in collection of Colonel Norman Colville MC (1893-1974). Subsequently Charles Ede Ltd, circa 2006, then private English collection, acquired from the previous.)
(Aquired from Art Ancient, London)
DJ 235 (Annex 215)