Cypriot Bird-shaped askos (2): Cypro-Geometric I (1050-950BC)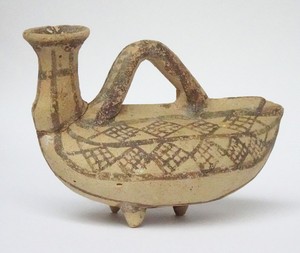 Proto-White Painted Ware pottery askos for pouring small amounts of liquid, probably oil in rituals. Possibly made for use in a funeral ceremony. Bird askoi were introduced to Cyprus in the 11th century, probably derived from Mycenaean IIIC, possibly via Crete.
Bird shaped body supported on 3 lug legs, double reeded basket handle on back, and neck as tubular spout with flared rim. Decorated with horizontal lines in dark paint, separated by laticed lozenges. 6 vertical lines on neck, crossed by horizontal rings by rim and near top. Bands across handle.
Neck mended and tail chipped, paint slightly worn.
Cf. The Cyprus Collections in the Medelhavsmuseet, Vassos Karageorghis (2003), p115 Cat.127
Size: 12cm long
(Ex Private collection of O Schwarzwälder in Germany since 1980.)
(Aquired Acquired from Gerhard Hirsch Nachfolger, Munich, auction 367 lot 1134.1)
DJ 229 (Annex 209)