Cypriot Small "tulip" bowl/conical cup: Early Cypriot I-II (2300-2100BC) or Middle Cypriot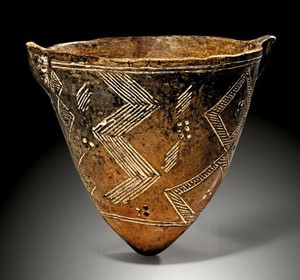 Red Polished Ware "Tulip bowl" with partly black-top. Conical beaker with 2 pierced, pointed lug handles by the rim. Decorated with incised lines filled with white lime. Double lines by rim and base and between them vertical features: bunches of zig-zags, hatched diamonds, large hollow hatched diamonds containing groups of dots. Also groups of dots alternating with patches of unbounded diagonal lines. A smaller version to a shape found only in Early Bronze Age I-II in North Cyprus, especially around Bellapais Vounous, though the vertical elements are unusual. The pointed base would have compelled the drinker to empty it before it was put down, or pass it to someone else.
However hollow, hatched and outlined diamonds, as here, are only known from the Middle Bronze Age in the Karpas (NE Cyprus). They are found chiefly on the bodies of the tall necked bottles which Desmond Morris made a study of (see my 2). He believes my conical cup was actually made by the same people. Either an Early Cypriot potter invented the decoration and then forgot it, or a Middle Cypriot potter revived or re-invented the tulip shape.
Reassembled from 5 pieces, otherwise good condition.
Size: 9.6cm high
(Ex Private collection, Germany, of O Schwarzwälder since 1980.)
(Aquired Acquired from Gerhard Hirsch Nachfolger, Munich, auction 367 lot 1136.1)
DJ 230 (Annex 210)