Cypriot Small conical "tulip" bowl: Early Cypriot I-II (2300-2150/2100 BC)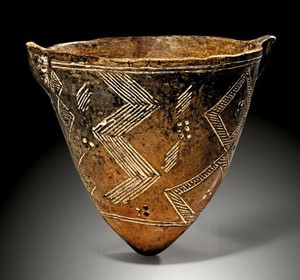 Red Polished Ware with partly black-top. Conical beaker with 2 pierced, pointed lug handles by the rim. Decorated with incised lines filled with white lime. Double lines by rim and base and between them vertical features: bunches of zig-zags, hatched diamonds, large hollow hatched diamonds containing groups of dots. Also groups of dots alternating with bunches of unbounded diagonal lines. A smaller version to a shape found only in Early Bronze Age I-II in North Cyprus, especially around Bellapais Vounous, and usually designated a "Tulip bowl". The pointed base would have compelled the drinker to empty it before it was put down, or pass it to someone else.
Good condition with minor restoration.
Size: 9.6cm high
(Ex Private collection, Germany, of O Schwarzwälder since 1980.)
(Aquired Acquired from Gerhard Hirsch Nachfolger, Munich, auction 367 lot 1136.1)
DJ 230 (Annex 212)