Cypriot Desmond Morris case of Fragments: Early Cypriot to Classical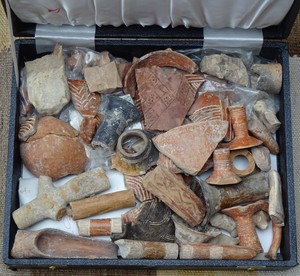 Desmond Morris's box of Ancient Cypriot fragments
These fragments, left over from the sale of his collection, were given to me in this case by Desmond Morris April 2021. Mostly Early/Middle Bronze Age Red polished Ware, including 1/3 of a pyxis, but also Early Iron Age figurine fragments. He said that sometimes such fragments were included in a mixed box of complete vessels at auctions, plus a few parts were from restored pots to which they did not originally belong.
DJ 219 (Annex 201)
Fragments of figurines:
(Annex) 201 A Part of figure detached from Middle Cypriot , White Painted Ware vessel. 3.8cm high. Pointed face/nose with poked eye holes, flattened pellet on back of left shoulder. Arms and lower body missing.
201 B Solid Archaic female votive figure with raised arms, possibly a priestess. Cylindrical body, tall, flat hat or "diadem", flattened pellets for breasts and ears, modelled pointed nose and chin. Missing most of both arms, lower body and top of "tiara", chipped nose and chin. 10.8cm as preserved. Cf V Karageorghis 1998 (Vol I) Pl.CXLVI (2) p.189. A type derived in Cyprus in the 11th century BC from Bronze Age Minoan originals. Very similar to many figures found around the island but particularly at Yeroskipou Monagri. Cf V Karageorghis 1998 (Vol V) Pl. V, VI & VIII p.10-15.
201 C Head from votive figure similar to 201B, but decorated with bichrome paint. Tiara widens going upward and top broken off. Black paint along both edges of tiara and black lower edge, with horizontal lines on the front alternating with red stripes. Large eyes depicted as black almond shaped outlines with dash at centre. Black along jawline. Red in ears. Fragment 6cm high. Similar to figures found at Palaepaphos. Cf V Karageorghis 1998 (Vol V) fig.11 p.12 & fig 7 p.8 but with painted face as Pl I (1 & 4), p.4 Fig.4 & 5
201 D Small head from votive figure of bearded man with tall pointed hood (Classical?)
201 E Small head of of woman from votive figure (mould made) Classical
201 F Small head of wreathed man from votive figure (mould made) Classical
201 G Head from plaque of female votive figure (mould made) Classical
201 H Lower part of robed votive figure with open cloak and feet (Classical)
201 I Legs possibly from small Late Cypriot birdface or flathead figurine. Fragment 5.8cm
201 J & K. 2 tiny Archaic horses heads with flattened pellet eyes (Cypriot?)
201 L Head of (?) horse. Eye from flattened disk with hole at centre. Loops of clay between eye and hole (?)missing eye. (Cypriot?)
Other pottery:
Early/Middle Cypriot
201 M About 20 fragments (some reassembled) making about 30% of a Pyxis in Red Polished Incised Ware , including 2 handles. Early Cypriot III- Middle Cypriot I
201 N & O fragments from two similar spikes (similar to 4 complete from DM's collection) but all probably a detached part of a vessel (as in vessel in St Barnabus Monastery Museum, previously looted from Hadjiprodromou collection); or double spike [side by side with fused section below, also from the Hadjiprodromou collection] itself broken from unknown whole). Early or Middle Cypriot
One is Red Polished Incised ware, the other plain Red Polished, with partly shaved surface.
201 P 7 fragments from Red Polished Incised Ware vessel. (EC/MC)
201 Q - onwards Many other fragments including 9 spouts from EC/MC vessels, either Red Polished or Red/Black polished, including several from tall-necked vases such as Annex 57 & 125, and section of 2 small plain bowls.
(Ex collection Desmond Morris)
(Aquired Desmond Morris (gift))