Cypriot Stone (Chlorate) mortar: Late Bronze Age (1650-1050 BC)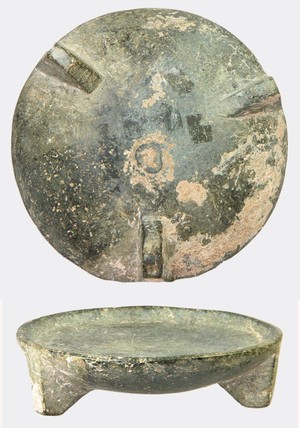 A finely carved grey/green chlorite mortar or shallow dish standing on three legs with angular profiles.
A similar example in the British Museum and also my other mortar, both indicate signs of burning which suggests these finely made vessels may have served (also?) as ritual rather than functional objects, perhaps as incensarios or miniature altars.
Intact.
cf. BM object/G_1897-0401-962

Size: 3.4 x 12.5cm
(Ex. private collection, New York, USA; acquired from Edward H. Merrin Gallery, NYC. 1970s, and formerly with The Bactria Corp., NYC., 1960s-1970s.)
(Aquired Helios Gallery UK)
DJ 227