Cypriot Half size terracotta head from votive figure: Cypro-Archaic I-II, (750-480 BC)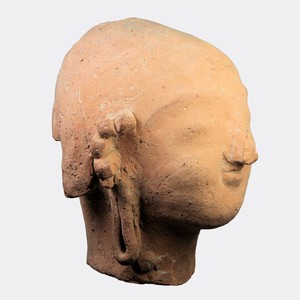 The hollow head from a large terracotta figure of a female votary with elaborate applied hanging strips of hair at the back, cut short above the neck in one case, others broken off. Long, straight nose and small mouth with protruding lower lip. Applied long, double, loop earrings from earlobe, and 4 other single earrings per ear for piercings along the ear rim. One pellet and marks of attachment from four others remain from a necklace. The distinctive smooth facial features combined with applied decoration is similar to some pieces found in Agia Irini except that here there is no modelled hairline or headdress at the front, which is usual. It is unclear if there used to be. However faint paint remains on eyebrows and more widely representing hair. The slight bulges representing the eyes may have been painted but it is hard to see. The head is probably all that remains from a full length figure. The purpose or cause of the ovoid hole in the top of the head (1.5 x 1.7cm) is unclear. A wooden block has been inserted into the head and the neck filled, presumably by those who mounted it on its stand.
Votive figures run from mass-produced mould made or modelled, a few centimetres high, to over-life size figures made in several pieces. Most are terracotta but a few are carved limestone. Some votive figures from shrines depicted gods and heroes, but most are now believed to have stood-in for the presence of the donor.
Size: 13.7 x 10.3 cms
(Ex. private collection, Nantes, France; acquired by inheritance. Probably purchased from the licensed dealer Nicolas Koutoulakis (1910-1996), Nikosia, prior to 1974.)
(Aquired Helios Gallery, UK)
DJ 211 (Annex 193)