Cypriot/Phoenician Phoenician style bronze incense-burner.: Archaic I (800-600 BC)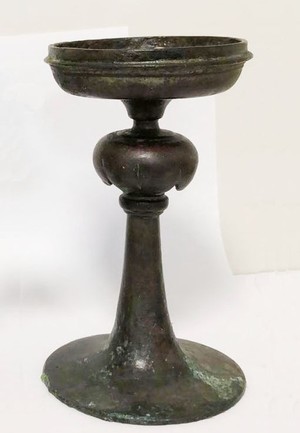 A rare type of Phoenician style bronze incense burner, with trumpet shaped base, below a ring and a ring of drooping petals (as found on the so-called lamp stands). A waist and flared ring above is topped by a shallow flat-based bowl, with external flange decoration a little below the lip. It might have originally had a pierced lid.
Phoenician incense burners came in many forms and are widely illustrated on seals, reliefs and coins. Found in palaces and shrines, but mainly in tombs, suggesting they may finally have been used in funeral ceremonies. However in Tomassos they are associated with equipment for banqueting, suggesting they were used at the opening of symposia. They are associated with Phoenician colonies across the Mediterranean, and the trumpet-base type with flower-knop above has been found in the Levant, Iberia, Sardinia and Cyprus. However the most similar one was found in Egypt in a Heraklion temple precinct (Alexandria Grave-depository, Inv. No.SCA 1054, 1061). The oldest versions from Israel and in hammered bronze come from Cyprus in the LC IIIA and Geometric I, possibly suggesting Cypriot makers were involved in the evolution of the type.
Since Shlomo Moussaieff was dominantly concerned with Israel's history and the Levant, the fact this piece was in his Cypriot collection suggests he had information linking it to Cyprus.
Size: 15.5cm high
(Ex the collection of Mr Shlomo Moussaieff, Herzliyah Pituah,Israel.  Collected 1960s or later 50s.)
(Aquired Acquired from Tamar Moussaieff through Alan Baidun)
DJ 216 (Annex 198)