Cypriot/Phoenician Bronze top of stand for lamp or incense burner (lower half): Archaic (750-475 BC)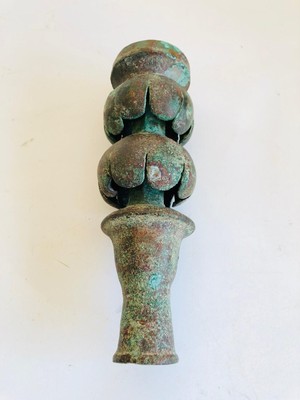 Lower half of the top of a heavy Archaic period stand in a Phoenician style. Previously called a lampstand but now often an incense-burner stand. Two globular flowers with hanging petals, with socket below, and disc above, originally supporting a top with 3 narrow, strap-branches curled at their tips and linked by a ring.
The lamp or incense burner would have been placed on the ring at the top, and a wooden shaft would have fitted in the socket at the lower end, leading to atripod base (as in 3 all-bronze examples). This would be a very luxurious piece, probably especially associated with drinking parties or "symposia", but also found in shrines and finally possibly linked to funeral ceremonies, since most were found in tombs.
These objects are associated with Phoenician colonies, and the Heraion (shrine of Hera) at Samos. small numbers were found in Sardinia, Etruria, Iberia, and the Levant. However the majority (over 50) have been found in Cyprus, most from Kourion, Salamis, Amathus and Tamasos, but curiously none from Kition, the city-kingdom in Cyprus subject to Phoenician Tyre. The Metropolitan Museum has 6 almost identical from Luigi Palma di Cesnola, with no provenance. The British museum has 4 complete, and part of 5 others, some from Kourion, some Amathus. Often only part remains suggesting they were cast in several pieces.
Size: 21cm high, 1.19kg
(Ex collection of Mr Shlomo Moussaieff, Herzliyah Pituah, Israel. Collected late 1970s early 1980s)
(Aquired Auction, Archaeological Center Ltd Tel Aviv, Lot 729)
DJ 203 (Annex