Cypriot Fish askos (LC II-IIIa): Late Cypriot II -IIIa (1450-1100 BC)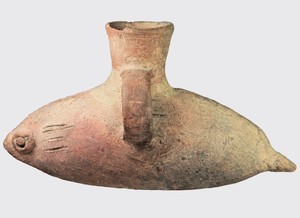 Extremely rare Base-Ring fish-shaped vase or askos with horizontal tail fin with 6 incised lines, and applied pellet eyes with inscribed circle. 4 horizontal incisions behind each eye and on right side, and 3 behind handle. Central upstand-spout/filling-hole, with traces of white painted band around its base, and with strap-handle on left side from near its base to fish mid-line. Some tiny specks of a shiny mineral seem to be embedded in the fabric.
Possibly inspired by Mycenaean or Egyptian examples. Cf Metropolitan Museum, Accession NY. 74.51.788
Some damage to right eye and spout rim, otherwise good condition.
Edit: Doubt has been cast on whether this piece is Cypriot, but a Cypriot archaeologist I consulted believes it is Cypriot.
Size: 11 x 19.5cm
(Ex private collection, Staffordshire, UK; acquired 1950s-80s. Sold at country auction.)
(Aquired Helios Gallery, UK)
DJ 218 (Annex 200)