Cypriot Fish askos (LC II-IIIa): Late Cypriot II -IIIa (1450-1100 BC)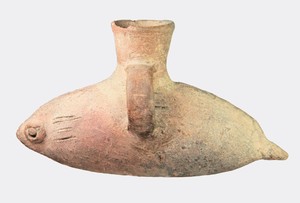 Extremely rare Base-Ring fish-shaped vase or askos with horizontal tail fin with 4 incised lines, and applied pellet eyes with inscribed circle, and 4-5 horizontal incisions behind each and below spout. Central upstanding spout /filling-hole, with traces of white painted band around base, and with strap-handle on left side from its base to fish mid-line. Cf Metropolitan Museum NY.
Edit: Doubt has been cast on whether this piece is Cypriot.
Size: 11 x 19.5cm
(Ex private collection, Staffordshire, UK; acquired 1950s-80s. Sold at country auction.)
(Aquired Helios Gallery, UK)
DJ 218 (Annex 200)