Cypriot Fish askos (LC II-IIIa): Late Cypriot II -IIIa (1450-1100 BC)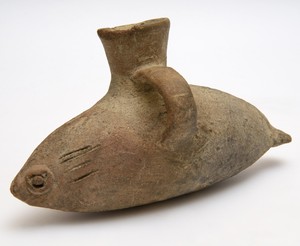 Extremely rare Base-Ring fish-shaped vase or askos with horizontal tail fin with 6 incised lines, and applied pellet eyes with inscribed circle. 4 horizontal incisions behind each eye and on right side, and 3 behind handle. Central upstand-spout/filling-hole, with traces of white painted band around its base, and with strap-handle on left side from near its base to fish mid-line. A few tiny specks of a shiny mineral seem to be embedded in the fabric.
The pellet eye with inscribed circle is a marker or almost all Late Bronze Age Cypriot animal and human pottery representations, generally, as seems the case here, in a Base Ring fabric. It was possibly inspired by Mycenaean or Egyptian examples (in Egypt the fish was generally a symbol of rebirth).
Due to the lack of any close parallel, doubt has been cast on whether this piece is Cypriot, but a Cypriot archaeologist I consulted believes it is Cypriot.
Some damage to right eye and spout rim, otherwise good condition.
Cf Metropolitan Museum, Accession NY. 74.51.788
Size: 11 x 19.5cm
(Ex private collection, Staffordshire, UK; acquired 1950s-80s. Sold at country auction.)
(Aquired Helios Gallery, UK)
DJ 218 (Annex 199)