Cypriot Base Ring I pithoid jar (LC Ib-IIa): Late Cypriot IB – IIA (1400-1500 BC)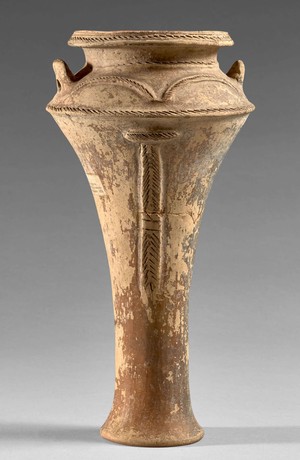 A unique, Base Ring I ware vessel, possibly intended for ritual use. A tall, conical, concave body rises from a narrow ring base via a highly carinated transition with applied rope decoration, narrowing briefly to a short ring neck and everted lip, both with rope decoration. Two small vertical handles decorate the shoulders, along with curved rope decorations on each side suggesting bull-horns. Below them pedestal-like applied straps with incised decoration further suggests bull protomes or human faces.
The base is consistent with Base Ring Ware and the rope decoration is classic Base Ring I. The top half suggests a carinated and stretched version of Minoan/ Mycenaean pithoi. and might be derivation from bronze vessels. Carinated shapes are however, a feature of some Plain White Wheelmade Ware. In contrast to the very hard finish of most Base Ring I, the majority of the grey/brown slip has worn off, suggesting a lower firing temperature, which might relate it to experimentation with new techniques. Inner lip a richer brown-red / dark grey. Firing crack on inside of neck.
Possibly related to a type of funnel-shaped Base Ring vessels with protruding bull protome, primarily used in worship, and derive from Minoan originals.
Compare: Tony Spiteris The Art of Cyprus p66; Kunsthistorischen Museum, Vienna Kat No.23 p86-7; Musée du Louvre AO 14744 and AO 18335 (p 42-43) both excavated Minet-el-Beida, Syria. Literature: Yon 1983 p177-80 pl XXIX.5-6; CVA Wien 1984, Tab.46, 1-2
Old label says "ILE DE CHYPRE / FOUILLES DE M PIERIDES / CH.-L. FROSSARD 1873
M Pierides (Monsieur Pierides?), most likely Demetrios Pierides, founder of the Pierides collection (1811-95), or possibly his son, Xenon.
Size: 25.7 x 12.7cm
(Believed to have been found by (for?) M. Pierides, as stated by label. From the collection of Charles-Louis Frossard (1827 – 1902) from 1873. Thence by descent to Emilie Isabelle Frossard (1854 - 1921). By descent again to Henry Schloesing (1879 - 1958). Subsequently purchased by Joseph Altounian in 1928, thence by descent. Sold Artcurial auction, 17 Sept 2019, lot 29. (as Fin du 1er Millenaire Av.JC ) Provided with French cultural property passport.)
(Aquired Art Ancient)
DJ 205 (Annex 187)