Cypriot Small bird model: Cypro Geometric III – Archaic II(850-500 BC)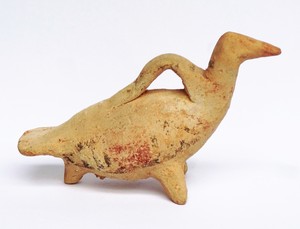 Very small, hollow terra cotta model of standing bird (possibly a duck) with three legs, a handle arising from back and lower neck and vent hole underneath. Eroded lines of black paint on handle, neck and tail feathers, and red brow and beak, with eyes marked by a red circle with dot (faintly visible). The folded wings are outlined in black with black cross and vertical lines, and a central area of red.
Modelled birds were made in Cyprus from the early Bronze Age onwards, especially standing on rims or shoulders of vessels. Geometric period bird models are relatively rare and usually have spread wings, but Archaic ones are common. Birds, especially water birds were depicted in both periods on jugs, especially the Archaic I free-field jugs. Although this model could be 7th- 6th century, the shape, with a handle, is very suggestive of Geometric period ascoi. The few with known provenance were found in tombs and V Karageorghis has suggested they may have been toys. However at least in the Middle Bronze Age and perhaps later, they appear to have had a symbolic function, perhaps representing the spirit.
Size: 7 x 11.2 x 3.9cm
(Ex collection of CC in Monaco, sold by Athena Gallery, Munich)
(Aquired Acquired Gorny & Mosch auction 272, lot 730)
DJ 200 (Annex 182)