Cypriot Limestone female head: Cypro-Archaic II (525-475 BC)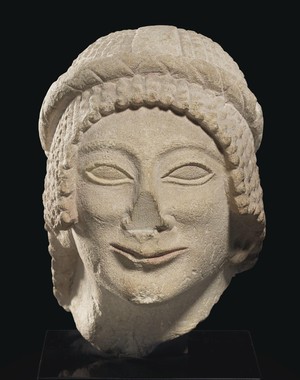 This head from a half life-size limestone votive sculpture was Excavated by Luigi Palma di Cesnola at a shrine near Golgoi. He reported it to be from the Archaic temple at Ayios Photios, 3km South East of ancient walled city of Golgoi (Cesnola 1878: 150). His digs in the area started in 1870, but he was notorious for claiming finds from several sites as being from only one. He found 228 limestone figures at the temple, but a similar number at a "favissa" (bothros for deposit of unwanted votive items) 200m to the West. This piece could come from either. Cesnola chiefly retained the heads of the figures and buried or otherwise disposed of many of the parts which didn't interest him. Cesnola designated the shrine and its temple as being sacred to Artemis but since most of the sculptures depicted male votives or deities it is more likely to have been dedicated to a male divinity. A group of female figures from the late Cypro-Classical and Hellenic periods suggest the later addition of a dedication to female divinity at the site. However in relation to this earlier head, occasional female votives were left at shrines to male divinities and vice versa. Golgoi produced the earliest Cypriot limestone sculptures, in the late 7th Century BC and has several limestone quarries nearby. In the next century they were followed by others such as, Idalion, Arsos and Kition. The Ayios Photios site, near the village of Athienou, is now inaccessible beside the North Cyprus border, in the UN buffer zone.
The head has an enigmatic smile and hair depicted in rows of ringlets, covering the ears and back of neck, with a rolled head-band (fillet, marked by diagonally crossing lines), with unusual band joining over the top of the head and extending below the fillet at the back. Originally painted, with traces of red colour remaining on the lips and faintly on eyes and hair. Small chips from lip and chin. Most of nose broken off: the strange flat break may indicate it was smoothed in the 19th century so the missing nose could be restored, and this is now lost or removed.
Size: 13.5 x 9.5 x 11cm
(Excavated Sanctuary of Golgoi – Ayios Photios 1870 or shortly after. Luigi Palma di Cesnola (1868-73). Metropolitan Museum, New York, acquired1885 and exhibited 1959 Albert Gallatin (1880-1965) acquired 1959. Sotheby's, London, Antiquities auction 13th June 1966, Lot 51 "Property of Mr Albert Gallatin". Sotheby's New York, auction 1-2 March 1984, Lot 23. Christie's New York, 16th June 2020 "Ancient Art from the James and Marilynn Alsdorf Collection " (unsold Lot). Published: LP di Cesnola, A Descriptive Atlas of the Cesnola Collection in the Metropolitan Museum of Art, Vol I, New York 1885, pl 81, No.528. D von Bothmer: Ancient Art from New York Private collections, New York 1961, p.25, No 105, pl.32.)
(Aquired the Alsdorf estate)
DJ 199 (Annex 181)