Cypriot Byzantine Christian oil lamp: 6th - 8th Century AD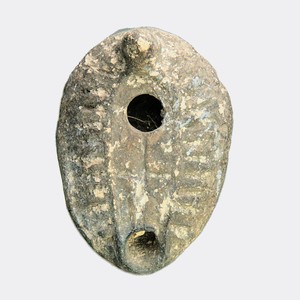 A mould-made, crude Byzantine pottery oil lamp, decorated with a Christian cross between the central filling hole and nozzle. Flattened ovoid shape with upstanding lug handle. Ridge, enclosing filling and nozzle holes, with multiple ridges extending between it and the carinated edge.
Cyprus had been part of the Byzantine Empire since 395AD. In 431 the Church of Cyprus achieved independence from the Patriarch of Antioch at the first Council of Ephesus. In 649 the Arabs invaded and occupied Cyprus, but in 683 the Arab garrison left after defeat by Constantine IV. Five years later, Emperor Justinian II and Caliph al-Malik signed a treaty under whose terms no garrisons were to be stationed in the island, and all taxes collected were to be divided between the Arabs and the Emperor. In 965 Cyprus was restored to Byzantine rule by Nicepheros Phokas
Some surface wear and accretions and smoke blackening around the nozzle which would have held the wick.
Size: 8.6 x 6.3 x 3.6cm
(Ex collection of Major-General Edward Ranulph Kenyon CB CMG (1854-1937), Shropshire, UK; acquired in Cyprus between 1883-1886 and thence passed by family descent. ER Kenyon was Commissioner of Kyrenia in North Cyprus between 1883-1886 and founder of the Cyprus Society.)
(Aquired Helios Gallery, UK 28th June 2020)
DJ 197