Cypriot small red on Black jug: Middle Bronze Age III (1750 - 1650 BC)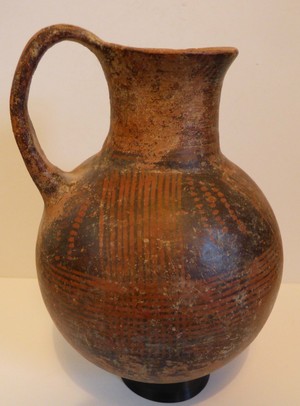 Small Red on Black ware jug, the slip severely worn on the back and the neck, which is frequently the case with this ware, which was only produced in the North East (Karpass peninsular) in a short period at the end of the Middle Bronze Age. Because of this narrow period of production, and the fact it was exported, it has been used as a date marker when found in Levantine excavations.
Red lines painted with a multi brush onto a black slip. Situated as this ware is, on the brink of the Late Bronze Age, some examples have a flat bottom, though most, like this piece, have the normal Middle Bronze Age rounded bottom.
Size: 16cm high
(Ex private collection of Jorgen jacobsen, Denmark, acquired while on UN duty with the Danish peace-keeping forces on Cyprus (Dancon X/XI) between October 1968 and October 1969. Part of a large collection he made from antique shops in Cyprus during his posting.); then collection of Stephen Churley, Buckinghamshire, acquired 18 June 2009 from Helios Gallery)
(Aquired from Stephen Churley)
DJ 190 Annex 172