Cypriot Reserved-Slip bowl: Middle Bronze Age (1900-1700 BC?)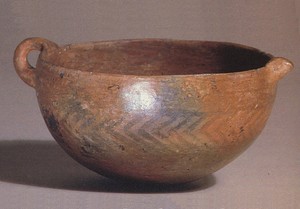 Reserved-Slip Red Polished Ware is a very rare ware in which parts of the red slip were wiped away while still wet, revealing the clay underneath as a paler, "negative" pattern. Being so rare it is possible it was the product of a single potter, or in any case a single settlement. The pattern on this example is not as contrasted as sometimes. There is also a small loop handle and pointed decoration on the spout, also seen on my very small red jug. This may also be a dateable feature but I cannot find one to compare with or a more specific date for reserved-slip.
One of 6 bowls bought as single lot from Bonhams auction.
Size: 11.3cm, 14 + handle.
(Ex Desmond Morris collection, then Christie's auction, London, 6th November 2001, lot 102, then G Kyrriacou collection (Cypriot artist living in London). Published D Morris, The Art of Ancient Cyprus, Oxford 1985, p.26 plate 18)
(Aquired Bonhams auction, London)
DJ 175