Cypriot WPW male plank-like figure: Middle Bronze Age II-III(1750-1600?)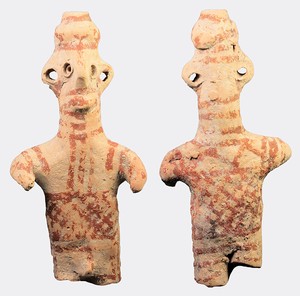 A pottery figure with a flat body, red-brown painted decoration and pierced ears. Both male and female figures are depicted regularly as wearing earrings. It must have been an important social marker as pierced ears are shown when almost all other facial features are omitted. The legs are broken off but a pubic bulge identifies the figure as male. Probably broken off a scenic model (such as the Middle Cypriot boat model ion the Louvre), or the rim of a vessel. Although it has a few features shown by late plank figures, it is probably not one. Unusual double-puncture eyes and possibly hat or helmet.

Size 10.9 x 5.2 cms

Provenance.
Ex. private collection, London, UK; acquired from Helios Gallery in November 2006, formerly in the collection of Robert J Molnar, New Jersey, USA, acquired between 1960-1978.
Acquired from Helios Gallery 9th Dec
DJ 185 Annex 160

Size: 10.9 x 5.2cm
(Ex. private collection, London, UK; acquired from Helios Gallery in November 2006, formerly in the collection of Robert J Molnar, New Jersey, USA, acquired between 1960-1978.)
(Aquired Helios Gallery (near Bath, UK))
DJ 185