Cypriot small Earring Figure with baby: Late Bronze Age II (1450-1100 BC)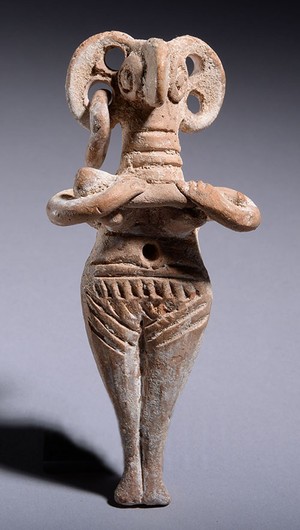 This is the smaller, solid type of "Earring Figure" carrying a baby. One of the 4 earrings remains. (see my notes with my larger figure.)
The Cesnola tag was attached at the back when purchased by Art Ancient. The Cesnola atlas and auction sales were checked without success. The presence of the tag is not conclusive evidence. It might come from the Lawrence/Cesnola collection .
Size 12.8cm high
Ex the collection of Shlomo Moussaieff (1925 – 2015), an Israeli antiquities collector who collected pieces from diverse cultures. It was acquired prior to 2000.
Acquired from Art Ancient, London, Early December 2019. (bought by them from a British dealer who bought it directly from the above estate.
DJDJ 181 Annex 162
Size: 12.8cm high
(Ex the collection of Shlomo Moussaieff (1925 – 2015), an Israeli antiquities collector who collected pieces from diverse cultures.  His Cypriot collection was acquired prior to 2000.)
(Aquired Art Ancient (London) (they bought from UK dealer, who bought from SM estate)
DJ 181