None Jug with figure and model jug as spout: Archaic II- early Classical (500-425BC)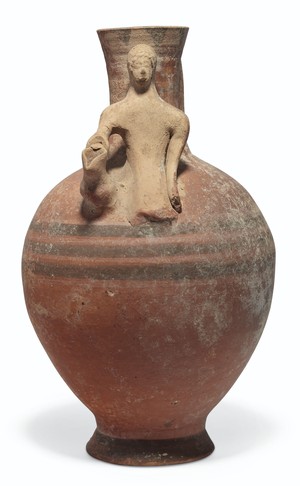 A well known late Cypro Archaic or Early Classical, Bichrome Redware jug type in which an applied figure holds a model jug which forms the spout of the main jug. The visual joke was clearly enjoyed at the time and still is. The ware is basically Black on Red Ware with added white.
This example is a little cruder than some with almost no paint on the figure, unless it has worn off. The face of the figure was probably formed using a mould. The somewhat blurry stripes and triangles of black and off-white on a deep red slip are a common feature of this later Bichrome ware.
Size: 26.3cm high
((Ex collection of Mitsubishi Department Store, Tokyo. 1975 Exhibition of Kokusai Bijutsu No. 3, no 25))
(Aquired Christie's (New York) auction. lot 411)
DJ 167