Palaeolithic UK Flint hand-axe/tool: Pre- 10,000 BC (?)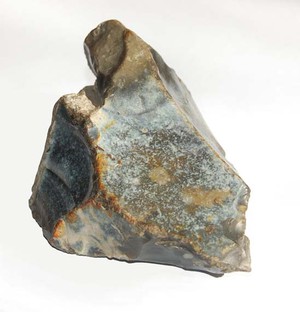 Found by HD Johnson in the garden at Red House Farm near Sible Hedingham, Essex c1960. The British Museum agreed it was probably a stone age implement (it fits the hand beautifully) , but I have not found the letter to see what period they suggested. However a friend who has an interest in hand axes believes it is Palaeolithic (ie before 10,000 BC), which was a period of hunter-gatherers.
I have used that period as my title but stone tools continued to be used for thousands more years of the Mesolithic, and the Neolithic which brought farming, and even after the introduction of Bronze in around 2150BC metal only took over very gradually. Some stone tools were still being used for nearly 1000 more years.
East Anglia is a well known source of flint. The famous Neolithic flint mines known as Grimes Graves in South Norfolk are reckoned to have produced 16000 - 18000 tons of flint which was traded across the country.
Size: 10cm L
DJ-1