Cypriot Red Lustrous Wheelmade Ware Spindle Bottle 2: Late Bronze Age I -II (1550-1200 BC)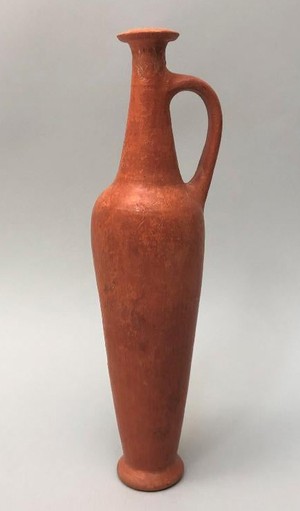 See notes on the other Red Lustrous Ware spindle bottle. Unlike the other, this one is free from excrescences and was not exported in antiquity. This is also slimmer and more elegant.
Complete with only minor chips.
Size: 30cm high
(Ex Cyprus Museum, Jacksonville, NC. (USA), opened to the public 1988. Reputedly bought from Sotheby's auction of July 11, 1990, lot 139. Subsequently sold at Dispersal Sale of entire Cyprus Museum collection, Lelland Little Auctioneers, June 15th 2018, lot 2055.)
(Aquired Ancient Objects auction, lot 0291, Providence RI, USA, 5th October 2019)
DJ 165.