Cypriot small phallic flask: Early Cypriot III- Middle Cypriot I (2100-1850 BC)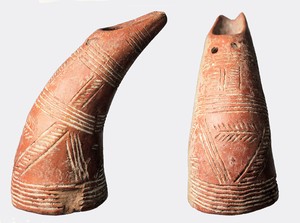 Small flask with cut-away spout and flat base - rather like horn models but with open ends reversed, or like one type of feeder bottle illustrated in the Swedish Expedition catalogue plate CLII. Except this is smaller than the latter. The two piercings by the rim, possibly to hang it up, are typical of flasks. The shape and perfectly flat base is unlike any small flask I can find reference to.
The resemblance to an uncircumcised penis, including in size, is striking, especially if held sideways It is hard not to believe the resemblance was intended. However it is not an erect phallus, so most likely not intended as a fertility symbol, and I know of no other body-part votives from the Early/Middle Bronze Age, and this was in a tomb, not a shrine. A puzzle. Was it just a visual joke, or some meaningful use which never caught on in that period? After all, the significance of dagger and spindle models in tombs has never been properly resolved, let alone the so called comb figures.
It was suggested to me that it could have been hung on the wall with the base against it, which would evoke a penis best, so I tried it. Unless there was a slight projection to stop it, the base slid down the wall unless the string was almost next to the pot base, which obscured the piece. I concluded this was unlikely.
Old collection label on base.
Size: 8.1 x 4.2cm
(Ex private collection, Surrey, UK; acquired from Sotheby's (London) between 1960s - 1980s. Research of old catalogues required.)
(Aquired Helios Gallery 11th October 2019)
DJ3 166 (no Annex)