Cypriot small relief-decorated jug: Middle Cypriot II-III? (1850-1650 BC)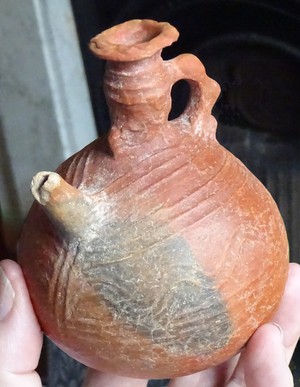 Small, elaborate Early Cypriot or Middle Cypriot jug with applied decoration in relief, including wavy-line "snake" motifs on the body and top of spout. Only one larger and one small patch of black but this looks like Red-Black Mottled Ware, which should make it early Bronze Age (Early Cypriot). It was assigned as 2000-1500BC (Middle Bronze Age I (or Early Bronze Age III by old dating) - Late Bronze Age I !) in the controversial sale of items from the Toledo Museum. (2000BC was previously the dating for Early BA III but is now Middle BA I. I am unsure which dating Christie's used but dealers seem not to have noticed the change of dating). I previously thought it slightly more likely Early Bronze Age III based especially on the decoration, though it has some features of the Middle Bronze Age III in size and shape. However it is very unusual, whichever of these two periods it was made. However it is like a slight elaboration of the decoration on Handmade Black Slip Ware (MC II-III), and an eminent curator has given his opinion as Middle Cypriot II-III as small items densely covered in applied decoration were prevalent then. I now accept this is the most likely.
In good condition except broken tip of spout, plus the lip of the top opening and one "tip" on the handle appear to be repainted. A better photo will follow.
Size: 12cm high x 9.4cm
(Ex. Gen. Luigi Palma di Cesnola 1868-1873; Greek and Roman Department, Metropolitan Museum of Art, 1873-1916. Purchased by Toledo Museum of Art, Ohio in 1916, Accession no. 1916.126. Sold in Christie's NY Auction 25th Oct 2016 lot 59.)
(Aquired Art Ancient April 5th 2019)
DJ 134