Cypriot bottle with dropper spout: Middle Cypriot II-III (1800-1650 BC)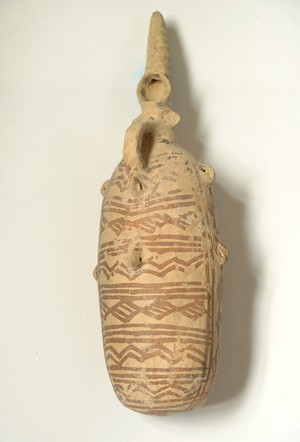 White Painted III-V Ware, String-hole type flask. String hole ware continued the Early Bronze Age habit of giving pottery a pierced lug to hang it up for storage, but turns multiple lugs into a decorative feature. The vessel has what is usually called a "dropper" spout which would create a smoother flow of liquid by introducing air into the narrow spout. The opening before the spout also functions as a filling hole. It cannot stand upright on its own so its use is unclear, but a number of these vessels exist. Were they for dispensing oil or feeding babies? Middle Cypriot White Painted Ware is painted with black or brown lines on a creamy slip. Unfortunately the painted lines tend to be friable and come off, probably because the kiln temperature was too low, as can be seen in places here and several of my other pieces.
Unfortunately most of my knowledge of this piece was discovered after the auction. I had not realised it was the same piece I had seen on the Barakat website. Assuming provenance given was correct, it is unclear if Moshe Dayan bought this piece or excavated it in Israel or the occupied territories (in which case it must have been an export from Cyprus). I had not known he was controversial in this regard.
"Dayan was an author and described himself as an amateur archaeologist, the latter hobby leading to significant controversy, as his amassing of historical artifacts, often with the help of his soldiers, seemed to be in breach of a number of laws. Some of his activities in this regard, whether illegal digging, looting of sites or commerce of antiquities, have been detailed by R. Kletter from the Israel Antiquities Authority." (Wikipedia)
Auction 27thMay 2007 (Haaretz): "A total of 165 archaeological artifacts collected by Moshe Dayan will be auctioned off Sunday morning at a small auction house in the U.S., but prices are being kept down in part because the former general and chief of staff may not have excavated them legally. The items are part of 200 glass and pottery vessels from the collection of Irving Bernstein, a United Jewish Appeal leader who was close to Dayan before he died in 1981. According to Bernstein's heirs, who initiated the auction, Dayan sold or gave Bernstein the items. As far as was known, Dayan left his private collection to his second wife Rachel, who sold it in 1986 to the Israel Museum for $1 million. Rachel Dayan said at the time she kept 15 items. The sale was widely criticized because many of the items were obtained illegally. The late archaeologist Yigal Shiloh said that selling the items to the museum was tantamount to approving the robbery of antiquities." However Mrs. Dayan has maintained that her husband bought the bulk of the collection legally.
In recent years (2015-18) this piece was advertised by Barakat Gallery (held in their Beverly Hills premises). They told me in a 2nd June 2015 email "In regards to Provenance, the entire selection of Cypriot art we have available was acquired as a whole from the collection of Desmond Morris in the late 70's." Morris actually sold his collection in 2001 and a few remaining pieces recently. However I hadn't asked specifically about this piece. I bought the piece from NY Elizabeth Auctions (Beverly Hills). The consignor was said to be a "Collector in Los Angeles" who used the same very low resolution photograph used by Barakat. I was an absentee bidder (since I was travelling at the time) and paid too much, not having taken-in that the bidding would start so high (my fault, I was a mug) though the estimated prices were obviously ridiculous $7,000-14,000 for this piece (https://www.live auctioneers.com/en-gb/catalog/136779_egyptian-and-middle-eastern-fine-art/?page=3 ), compared to $3200 on the Barakat website (http://www.barakatgallery.com/Store/Index.cfmFuseAction=subcatItemsDetails&UserID=0&CategoryID=37&SubCategoryID=1011). All other lots in the auction passed (ie were not sold) and all had similarly ridiculous estimates: I was the only buyer! What could have been the purpose of this sale?
13th March 2019. Unfortunately the piece arrived with spout broken off (ie in 2 pieces) now restored. Stand required.
Size: 23.5 x 7.6 x 2.75cm
(Ex collection Moshe Dayan. After his passing in 1981 his collection was purchased in Israel by a gentlemen. This is one of the lots from that collection. (information from consignor to NY Elizabeth auctions - however see below))
(Aquired NY Elizabeth Auction (Beverly Hills USA) 24th February 2019 lot 0069.Dayan)
DJ 132