Cypriot small white painted bowl: Early Iron Age (1050-600BC)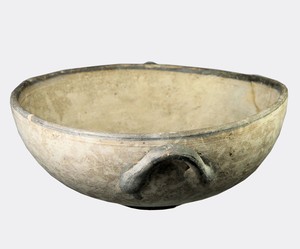 A simple White Painted Ware bowls, its rounded sides rarer than there usual near vertical. The white slip body is simply decorated, with base and tondo painted with small grey concentric circles and the rim and handles with a single grey band.
Repaired on one side of the rim, one side of the body was slightly compressed during ancient manufacture.


Size: 5.4 x 15.7cm
(Ex. collection: Peter Newall (1946-2018), Dorset, UK; imported into the UK in 1973. Inherited c. 1970 from a South African collection formed between the 1930's -1960's.)
(Aquired Helios Gallery (14th February 2019))
DJ 128