Cypriot Large White Painted II Ware jug: Middle Bronze Age I (2000 - 1850 BC)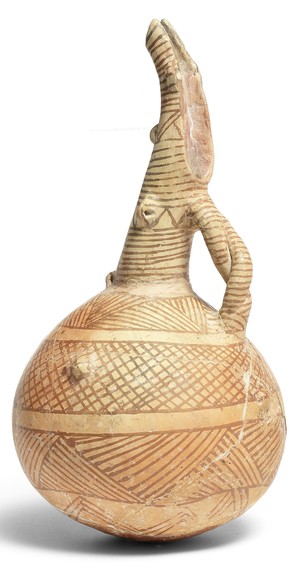 This jug is unusually large for Handmade White Painted Ware, which was typically used to make small items. White painted ware is covered with a white clay slip and painted in red/brown or black lines. The latter typically do not adhere very well due to rather low temperature firing. The twisted handles are unusual but can be found now and then through Cypriot ancient history (see for example my much earlier Philia period jug), but paired untwisted handles are very common in the Iron Age (see my Geometric period jug). The multiple pierced lugs are slightly reminiscent of String-Hole Ware, and the cut-away spout looks earlier than MCIII, so I am guessing Middle Cypriot II (ie Middle Bronze Age II) (1850-1750 BC).
The body of the jug and handles, and the junction with the neck have been much and slightly messily mended, and an odd mend of a piece of the spout lip needs investigating. A huge crack in the body needs consolidating. New purchase.
Cf. White Painted II Ware - Inv. No. 19530 (h.: 36.5cm) Middle Cypriot I, Vassos Karageorghis, Ancient Cypriote Art in the National Archaeological Museum of Athens, Nikosia, 2003, p. 32, cat no. 41
Size: 34cm high
(Mr A. N. Strouthos collection, exported from Cyprus to the UK under licence in 1978; and thence by descent to the present owner. (photocopy of export certificate retained))
(Aquired Bonhams auction 28th November 2018, lot 120. (one of 35 pieces from ANS))
DJ 120