Cypriot Cypro-Mycenaean, stirrup vessel: Late Bronze Age IIIc 1100 -1050BC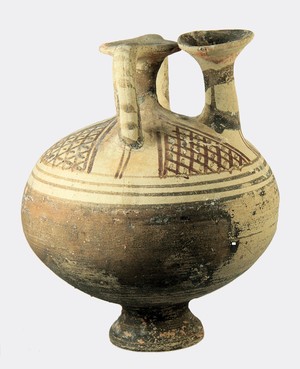 A pottery stirrup vessel, the most common and characteristic Mycenaean form, with painted cross-hatched triangle decoration around the shoulder. They exist in smaller and much bigger sizes. However this is much cruder and less well fired than canonic examples, with the true and false spouts touching awkwardly. I believe it was made in Cyprus in imitation of Mycenaean imports, which makes it relatively rare. Similar pieces were made in Greece in the Sub-Mycenaean period (after the collapse of the Mycenaean civilisation) but it seems less likely it would have been imported to Cyprus so late.
Intact with surface wear.
Size: 14.5 x 12 cms
(Ex. private collection, Yorkshire, UK; acquired from Helios Gallery in 2009. Formerly in the collection of Ian Auld, London, UK who was a well known potter and teacher of pottery. Acquired 1970's-1990's.)
(Aquired Acquired Helios Gallery 9th February 2018)
DJ102