Cypriot Handmade Black Slip jug: Middle Bronze Age II-III (1800-1650)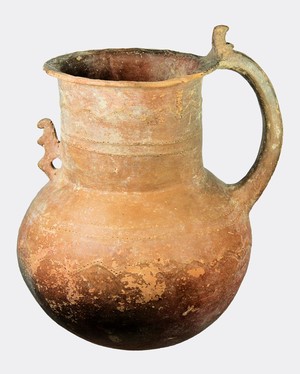 A rare Handmade Black Slip Ware pottery jug with an orange/grey surface decorated with pierced relief lines. This ware is sometimes hard to tell from Drab Polished Ware. (For another example, though less ornate, compare Desmond Morris: Art of Ancient Cyprus Plate 20a. The top of the handle and front of the shoulder are decorated with abstract zoomorphic or anthropomorphic shapes. The figure on the shoulder is reminiscent of a crouching profile female form. Much of Middle Bronze Age Black slip ware looks very like base ring ware without the ring and with a gently rounded base.
Chipping and light surface abrasion.
Size: 20.7 x 15 cms
(Ex. private collection, Cambridgeshire, UK; acquired mid-late 20th Century. Thence with Sworders Auctioneers, Stanstead Mountfitchet, UK.)
(Aquired Helios Gallery Feb 12th 2018)
DJ104