Cypriot Very large spouted bowl with bulls: Early Bronze Age (2400 – 2000 BC)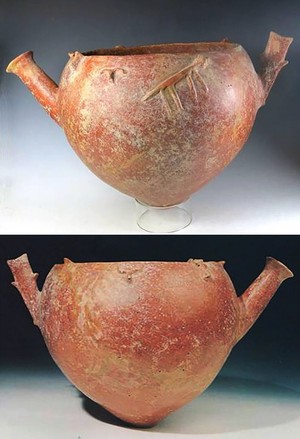 Large Red Polished Ware spouted bowl: smaller than the other, similar one in the collection (DJ )and with only one spout, though with an interesting Early Cypriot dagger-hilt shaped handle. Probably from Vounous as this vessel is almost identical in shape to ones found there (though of those illustrated by Karageorghis, 2 have birds on the rim and one a horned quadruped). Probably used for serving of drink at feasts (water, beer or wine). This vessel will have been found in a tomb, having been used at the funeral feast for which it was almost certainly made.
On one side is the figure of a bull in relief (the main torso partly restored), plus there are 5 heads near the rim. two have no horns and are more ambiguous: the Christies Catalogue calls them feline, which is possible. 3, however are the more usual bulls heads. These reflect the bull cult known through the length of the Bronze Age in Cyprus and other cultures. Bull protomes are found in shrines and much pottery, and in Late Bronze Age temples as "horns of consecration, as well as being the main animal represented in figurines, outnumbering all other subjects put together. The bull, as well as, to a lesser extent, other male, horned animals (stags and Bezoar goats with long, back-curving, ribbed horns) are believed to have represented male fertility, and in the context of mortuary ritual, by extension also rebirth.
Central section of torso of main bull restored. Several small areas of repair and restoration.
Size: 48cm x 28cm high
(Offered for sale early 1990 by Chris Martin. Bought by another dealer and offered for sale Christies (12.12 1990) lot 54 but not sold. Re bought by Chris Martin and sold to BL December 1990 (personal friend: full details in my records). The dealer is trying to find his records of earlier provenance for me.)
(Aquired From private collection of BL (formed late 80s, early 90s) Nov 20th 2017.)
DJ95