Cypriot miniature spouted vessel: Middle Bronze Age I -II (2000 – 1700 BC)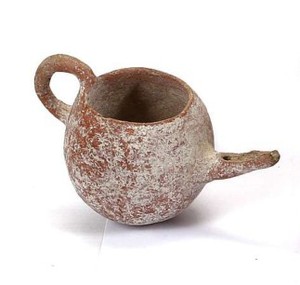 Red Polished Ware miniature vessel for pouring small amounts of liquid, possibly oil. Perhaps to fill lamps? Cut away (or damaged?) spout and rounded base. The cut-away spout seems to make it unsuitable to feed a baby. Or could it be a toy? It cannot be filled more than half full without leaking from the spout, unless kept tipped backwards.
Extensive light encrustation.
Size: 6 x 11cm (inc spout)
(Ex collection of David Read, acquired between 1966-1969 while working as a government official in Cyprus. He explored the ancient sites and museums and got to know local collectors and historians.)
(Aquired 14th Decemberthrough Chiswick Auctions from failed lot 152 (part))
DJ97