Cypriot large base ring I ware jug: Late Bronze Age, 1600-1450 BC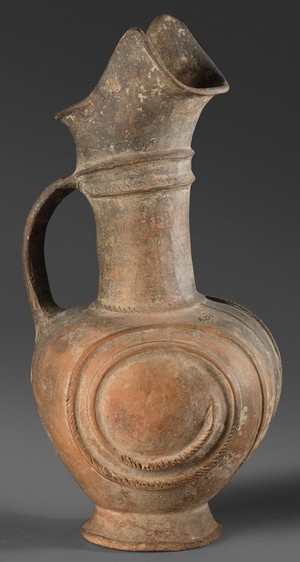 This large vessel is a very fine, and quite rare example of Base Ring Ware - along with White Slip Ware the pottery which dominated the Cypriot Late Bronze Age. Base Ring ware I is generally finer and has applied decoration, as here. Its colour and thinness is thought to imitate Bronze vessels. The later BRW II is generally thicker and has (usually paler) painted decoration on a grey slip. Duringthe Late Bronze Age, in contrast to the local production of earlier periods, pottery was made in a few centres and traded across the island, as well as abroad to Anatolia, the Levant and Egypt.
Base ring ware, named after the distinctive base rings applied to the bottom of the vessel, was made of a fine, highly levigated clay, and marks a significant development in Cypriot pottery. It was among the first wares intended for use on flat surfaces, since the flat bottomed Philia Red polished ware at the start of the Early Bronze Age. Almost all Early and Middle Cypriot pottery was round-bottomed and would have needed to stand on a (probably organic) ring or a dip in the floor.
Although rope-like, the applied decoration on this vase may refer to snakes. Other examples actually include a depiction of the snake's head. Snakes are thought to have fulfilled an important function within Early Cypriot religion as chthonic symbols (due to living in holes in the ground) and possibly as protective spirits.
Published: Pitt Rivers Museum catalogue p.817
Literature: A similar jug was sold at Christie's in London as part of the Desmond Morris Collection on 6 November 2001 as lot 93. Cf. D. Morris, The Art of Ancient Cyprus, 1985, p.34, pl. 25h. Similar examples are on display in the Metropolitan Museum of Art, New York (acc No.74.51.1084) and the Cyprus Museum Nicosia.
Authenticated by TL (Thermoluminescence) test 6th Feb 2018 (OxfordAuthentication Ltd) as being between 3000-4500 years old.
Size: 43 cm high
(Provenance: Formerly in the Lawrence collection, red ink inscribed on the base: Lawrence Coll: Sotheby. Lot 620. Apr. 1892. p.820. £1.6, the original auction label attached.  Lt. Gen. A.H.L.F. Pitt-Rivers Collection, purchased from the above sale, 1892;  Sold Bonhams, 22 April, 1999, Lot 25; Private collection of John Kasmin, London, acquired 1999. Edwin Henry Lawrence (1819-91) financed the excavations in Cyprus of his future son in law, Major Alessandro Palma di Cesnola. In return he received about 14,000 Cypriot antiquities. Alessandro was USA Vice Consul in Paphos, Cyprus. Laurence had previously also bought a few Cypriot antiquities from his brother, the Consul, who was the better known General Luigi Palma di Cesnola who longed to rival Schliemann's digs at Troy and Mycenae. On the strength of the thousands of Cypriot antiquities he brought back to the Metropolitan Museum New York (despite a whole ship-load going to the bottom of the Mediterranean, and first trying to sell the rest to the Louvre and the British Museum,) Luigi was made its director. Between them, between 1865-79, the brothers excavated (in effect plundered) about 10,000 Cypriot tombs, Alessandro continuing for a few years after Luigi left.. The Laurence-Cesnola collection was sold at Sotheby's over 4 three-day sales, the first in 1883, the last, which only contained a few Cypriot items, including this jug, in 1892. General Pitt-Rivers (1827-1900) was an English officer in the British Army, ethnologist, and archaeologist. He was noted for innovations in archaeological methodology, and in the museum display of archaeological and ethnological collections. He had already bought from Luigi Palma di Cesnola, and given his large anthropological and archaeological collection to Oxford, creating the Pitt-Rivers Museum. During the period that he bought 593 items from the Laurence collection, he had started a new collection which in 1880 became the second Pitt-Rivers Museum, in Farnham. Finally in the 1960s the museum closed and and in the 1970s-80s his family sold this second collection. Published: Pitt Rivers Museum Catalogue p.817)
(Aquired from Rupert Wace Ancient Art, London 12th July 2018)
DJ100