Cypriot large conical spouted bowl: Early III-Middle Bronze Age II (2100-1750 BC)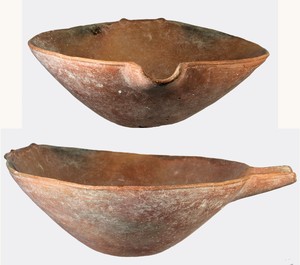 A very large, relatively shallow, Red Polished Mottled Ware conical bowl. It has a spout and double-pierced lug handle This conical shape is sometimes found in even slightly larger and deeper versions in the Early Bronze Age and was probably made especially for feasts. Indeed this could be Early BA though the walls would be quite thin for that period. The slight asymmetry of height, and mottled red-black appearance, suggests Southern or central Cyprus. The funeral assemblages in those areas tend to consist of undecorated vessels with more large food bowls than in the North, but fewer jugs. Overall the small personal eating/drinking bowl dominated both Early and Middle Bronze Age tomb assemblages, with the early period having more decorated versions, and the Middle BA more and plainer bowls, suggesting more people were involved in the funeral feasts.
A minor repair on one side of the pierced lug, otherwise intact.
Size: 15 x 34.5 x 40 cm
(Ex private collection, Herefordshire, UK: acquired 1980s-90s.)
(Aquired from Helios Gallery December 2017)
DJ98