Cypriot small red on Black jug: Middle Bronze Age III (1750 - 1650 BC)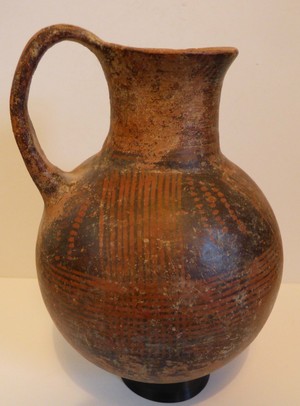 Small Red on Black ware jug, the slip severely worn on the back and the neck, which is frequently the case with this ware.
Red lines painted with a multi brush.
Still with the last owner.
Size: 16cm high
(Ex private collection of Jorgen jacobsen, Denmark, acquired while on UN duty with the Danish peace-keeping forces on Cyprus (Dancon X/XI) between October 1968 and October 1969. Part of a large collection he made from antique shops in Cyprus during his posting.); then collection of Stephen Churley, Buckinghamshire, acquired 18 June 2009 from Helios Gallery)
(Aquired from Stephen Churley)
DJ 190 Annex 172