Cypriot duck Askos: Late Bronze IIIB-Geometric I (1100-1000BC)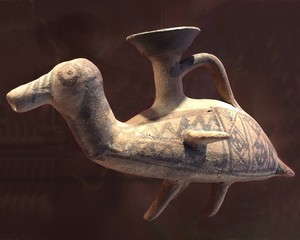 Late Bronze Age IIIB, or Geometric IA duck Askos in White Painted Ware. Desmond Morris called these bird Askoi, Proto White Painted Ware and designated them as from the end of the Late Bronze Age III, but the decoration could be early Geometric. A knowledgeable friend reckoned it was on the cusp. The Duck askos continued into the later Geometric without the stub-wings and later still in a more abstracted form. The filling hole is in the back and the beak acts as a spout. The figure stands on 3 legs with short stubby wings, the creamy slip on the body painted with geometric patterns.
Paint worn in places and some accretions.
Size: 15 x 25cm long
(Ex private collection France 1970 - 1980s, subsequently sold at Auction PISAS, Paris.)
(Aquired Baidun fine Antiquities, Jerusalem June 2019 (export permit from Israel))
DJ 143